Baracutanga is available to play venues of all sizes and educate about the roots of our music.  Whether it's a large festival or a small private party, we are able to accomodate and will get everyone in attendance dancing and having a good time.  Our workshops are perfect for schools, folk festivals and other special events, and cover many aspects of the historical development of South American music.  Choose a link below for more information.
Baracutanga presents a high energy show that takes audiences on a tour through South America, mixing traditional instruments and rhythms into a contemporary blend of sounds.
Baracutanga has performed in venues of all sizes, such as the Arvada Center for the Arts in Arvada, CO, the Krannert Center for the Performing Arts at the University of Illinois, Urbana-Champaign, the main stage of Calgary International Folk Festival in Calgary, Canada, the Santa Fe Bandstand, Albuquerque's Route 66 Summer Festival, and a host of smaller venues in New Orleans, Austin, Berkeley, Kansas City, Ciudad Juárez, MX, and around the entire state of New Mexico.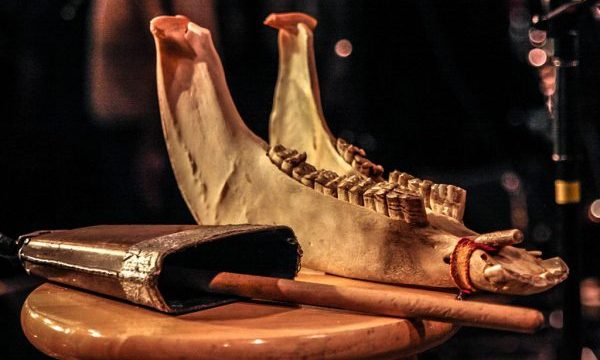 Is your institution/festival looking for a workshop delivered in a fun and interactive way? With our expertise in a variety of styles, we can offer the following workshops:
Rhythms and Instruments from South America
Participants will be able to interactively learn some of the most important musical influences present in South America. We will demonstrate traditional percussion, wind and string instruments and explain how they fit into the musical idioms of Colombia, Ecuador, Perú, Bolivia, Chile, Uruguay, Argentina, and Brazil.  
Brazilian Batucada (Drum Ensemble)
In this workshop, basic and intermediate patterns of the popular Brazilian Street batucada will be covered. Participants will learn the names of the most popular instruments used in the batucada, rhythmic patterns, rhythmic blend, technique and basic choreography that can be easily replicated by a marching band or a local percussion ensemble for future use.
Banda (Latin American brass ensemble)
Bandas are full wind-brass ensembles (including clarinets, saxophones, trumpets, trombones, baritones, tubas and percussionists) that are very popular amongst Latin Americans. Used in celebrations and various festive events, bandas can be as small as four-to-six musicians, or as large as hundreds. Baracutanga offers a banda workshop, overviewing some of the styles from Mexico, Colombia, Perú, Bolivia and Brazil. This particular workshop is well suited for your institution's marching band. We can send all the necessary sheet music in advance, so participants can practice the charts ahead of time and perform with members of Baracutanga, if desired.
Customized Workshops
We can build a customized workshop according to your institution's needs. Let us know what your vision is, and we will send you a proposal with all the required information.
When it comes to music and entertainment for private events, Baracutanga provides the ultimate cultural experience of music from South America and beyond. Our award-winning ensemble is made up of professional musicians that are knowledgeable in their craft and proficient in South American styles such as Colombian cumbia, Brazilian samba, Andean huanyo, and Afro-Peruvian festejo, but is also able to perform American jazz, latin Jazz, blues and other styles.
Our packages include and range from music for the ceremony, the cocktail hour, the dinner time and the entire reception. Additionally, we can provide DJ services, fully customizable with genres of your choice, all accompanied by a full and professional sound system. Our musicians are prepared to provide your wedding and special event with customized small ensemble options, such as soloist, duo, trio or quartet in a variety of configurations and musical styles. Let Baracutanga take care of your entertainment needs and become one of the many satisfied guests that rave about our multiple and versatile services offered.